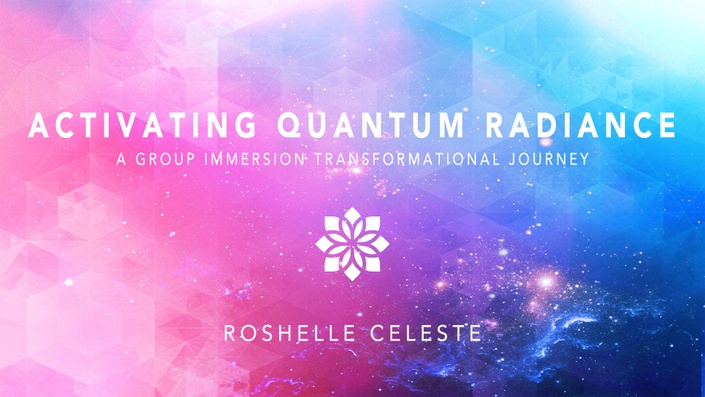 Activating Quantum Radiance
This round of Activating Quantum Radiance Live Group Immersion begins on:
February 23rd, 2020 at 6pm Pacific Time
Pre-Modules are open, waiting for you to begin your transformational journey!
Curriculum Summary
Activating Quantum Radiance guides you through an easy to follow 6 week curriculum.
Each week will focus on unique aspects of your quantum field - allowing you to:
Gradually rewire your consciousness around positive expectations, self-confidence and inner joy
Expand your awareness and capacity to receive, knowing anything is possible
Connect deeper to the vision of your ideal reality
Activate and finally integrate new codes of transformation, inner radiance, and abundant joy
Everything you will experience is based on some of the most effective techniques and advanced modalities for personal transformation which have been proven and time-tested to work like magic for thousands of people.
All weekly lessons and guided activations will be delivered by Roshelle Celeste live each Sunday evening at 6pm PST, and then posted on the program platform for you to repeat throughout the week.
Each week contains:
Lessons and Exercises from Roshelle Celeste, delivered live on Sunday evenings
Activations guided by Roshelle Celeste, to be repeated throughout the week
Reflection Day - Integrate the lessons, exercises and energetic shifts at the end of each week
Week 1: Reset Your Release Codes
Sunday, February 23rd - Saturday, February 29th
Live Call: February 23 at 6pm PST
In Week 1, you'll be deep diving into profound energy work to get fully aware of and clear where you are right now: the patterns, habits and behaviours that perpetuate the stories that don't serve you.
Highlights Include:
Ground into your current reality
Upgrade your vibrational frequency
Remembering your personal connection to all that's possible
Transformation Code: Releasing and Letting Go
Weekly Exercise: Grounding into Emotional Clarity
Daily Activation: Activating Higher Self Consciousness
Week 2: Detoxing Your Emotions
Sunday, March 1st - Saturday, March 7th
Live Call: March 1 at 6pm PST (watch out for the time change)
In Week 2, you'll be clearing and dissolving emotional distortions and fragments left behind in your own painful experiences, as well as collective distortions held within your DNA and energy fields.
Highlights Include:
Understand personal and imprinted emotional distortions in our collective field
Weave Higher Self Consciousness into your memories
Unlock and shift distortions from your physical body and transform them into new possibilities
Transformation Code: Releasing and Letting Go
Weekly Exercise: Reframing the Inner Child
Daily Activation: Clearing Emotional Distortions
Week 3: Leaning into Trifinity
Live Call: March 8 at 6pm PST (watch out for the time change)
Live Call: March 8 at 6pm PST
In Week 3, you'll be upgrading and recoding pain from judgement and resentment held deep inside the heart and physical body.
Highlights Include:
Recode your relationship with yourself
Understand the inner triangle of pain
Release pain from heartbreak and grievances
Activate your golden breath
Transformation Code: Allowing
Weekly Exercise: Transmit Heartbreak Distortions
Daily Activation: Activate the Trifinity of Forgiveness
Week 4:Elevate Your Alignment
Sunday, March 15th - Saturday, March 21st
Live Call: March 22 at 6pm PST
In Week 4, you'll be elevating your energetic alignment of your current reality and activating light-heart boundaries.
Highlights Include:
Understand your heart-language that honours your inner truth, vision and alignment
Understand what you're tolerating in your desire field
Recode your boundaries to align with your abundant joy
Transformation Code: Allowing
Weekly Exercise: Meeting Your Personal Council
Daily Activation: Getting to Know Your Emotional Boundaries
Week 5: Activate Your Transforming Codes
Sunday, March 22nd - Saturday, March 28th
Live Call: March 22 at 6pm PST
In Week 5, you'll connect with your personal transformation codes to allow in your inner radiance and abundant joy.
Highlights Include:
Understand your resistance to pleasure and abundant joy
Access radical self-acceptance
Tap into your deeper vision
Understand who you need to be when committing to this aligned vision of your desired reality.
Transformation Code: Receiving
Weekly Exercise: Releasing Resistance
Daily Activation: Allowing What Is to Reach Your Deeper Reality
Week 6: Optimizing Your Radiance Alchemy
Sunday, March 29th - Saturday, April 4th
Live Call: March 29 at 6pm PST
In Week 6, you'll integrate all transformation codes and lock in your Higher Self consciousness. You'll fully activate your Personal Quantum Radiance.
Highlights Include:
Raise your vibrational frequency
Optimize your radiance alchemy
Expand your energetic container for receiving joy
Transformation Code: Receiving
Weekly Exercise: Embodying What's Possible
Daily Activation: Expand Your Abundant Joy Container
Frequently Asked Questions
When does the course start and finish?
The course starts February 23rd, 2020 where you receive daily uploads to your class portal for 6 weeks. You can choose to go at the same pace as everyone, or take your time. Listen to your inner guidance for how to move through this program.
How long do I have access to the course?
How does lifetime access sound? After enrolling, you have unlimited access to this course for as long as you like - across any and all devices you own.
What if I am unhappy with the course?
We would never want you to be unhappy! If you are unsatisfied with your purchase, you have until March 4, 2020 to contact us (unless the private session has occurred) to receive a full refund. After this date or the private session has occurred (whichever comes first), there is 6 months of group support available through the private Facebook community to ensure you maximize your results.
I understand that in purchasing this program, I am agreeing to your terms of use. Where do I find your Terms of Use?
Right here: https://www.roshelleceleste.com/termsofuse
This course is closed for enrollment.